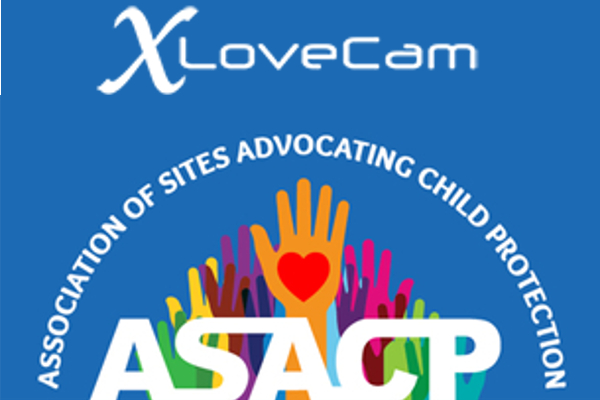 LOS ANGELES – The Association of Sites Advocating Child Protection (ASACP) announced today that live cam platform XLoveCam.com has become ASACP's newest Title Sponsor – and the latest live cam company to "step up to an industry leadership role."
"For more than 13 years, XLoveCam.com has provided a live cam platform that provides users, affiliates and models with quality professional service," ASACP stated in a release announcing XLoveCam's sponsorship. "The company safely serves more than 1 million visitors every day using an infrastructure that is spread over five countries. In 2018, the site reported 125 million unique visitors and nearly 2 billion page views, with a 99.99 percent positive response rate among users."
According to the release, representatives of ASACP and XLoveCam have been meeting regularly at adult industry trade shows in the U.S. and Europe since 2006 – and XLoveCam founder Patrick Koning said that as a result of those meetings, and his company's believe in the cause ASACP serves, the company decided to sponsor the association.
"XLoveCam.com wanted to support ASACP by helping to reinforce the efforts of the nonprofit and the children they protect through this financial support," Koning said. "XLoveCam.com is strongly in agreement with ASACP regarding the protection of children and being against child pornography."
According to the ASACP release, XLoveCam has "set up barriers on its platforms to keep children from accessing its sites and to prevent them from being exposed to sexually explicit images." The company also "ensures that no type of illegal activity occurs on its platform, monitoring it 24 hours per day and applying a zero-tolerance policy against any illegal activity."
"Since the beginning of our platform, we have implemented the ASACP RTA label so that our platform is easily identified and blocked using the filters of the parental control systems," Koning said. "Our goal with this sponsorship is to provide a boost to an association that has proven its competence, efficiency and willingness in this area, and we hope to maintain this sponsorship for years to come."
ASACP's Executive Director Tim Henning said he warmly welcomes XLoveCam.com to the association's family of industry-leading sponsors and is pleased that the company is playing a substantial role in the fight to protect children from age-inappropriate materials.
"ASACP's mission to keep children out of and away from adult entertainment is doubly supported when a live cam company steps up to a leadership role by sponsoring the association," Henning said. "The reason bringing cam companies on-board is so important is because not only do they need to keep children from viewing their sites, they also need to prevent any underage models from broadcasting on their platform. It is a complicated and serious responsibility — but ASACP can help."
Henning said ASACP's sponsors benefit from a variety of the association's services, including the Restricted to Adults (RTA) meta label that filters out age-restricted materials, the association's guidance on market-specific best practices, a universal Code of Ethics promoting child-safe operation, and more.
In its statement, ASACP said "the generosity of its sponsors empowers the nonprofit association's 23-year-long record of success, which is highlighted by its globally recognized Child Exploitation Tipline, which has processed more than 1 million CP reports to-date — illustrating the value of the association and the effective use it makes of the support it receives from its sponsors."
"ASACP's sponsor roll represents the industry's finest companies, and we're grateful that XLoveCam.com has joined our family as an elite Title Sponsor, reflecting the company's commitment to child safety," Henning added. "By combining proactive family-friendly business practices with a responsible level of community support, XLoveCam.com provides an enviable example of leadership."
https://www.ynot.com/xlovecam-asacp-title-sponsor/